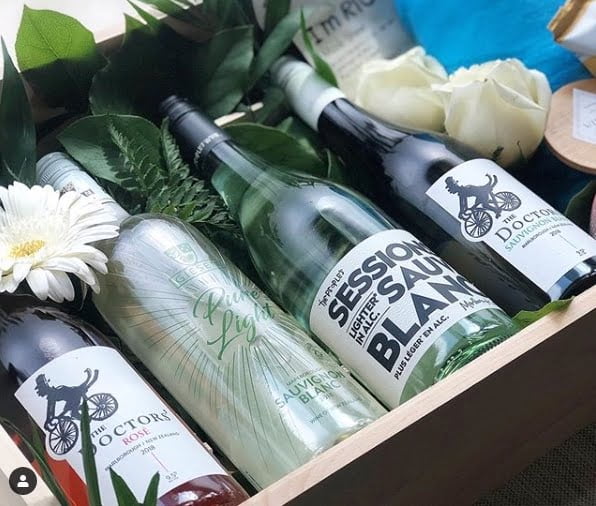 Last summer, spurred by a surge in sales of low/no-alcohol drinks, British supermarket chain Sainsbury's opened a pop-up pub in central London selling only alcohol-free or low alcohol drinks. The initiative once again illustrates the extent to which the category has gone mainstream. And it's one that New Zealand's wine industry will be toasting. Sharon Nagel explains why.
An extensive toolkit of techniques
Several years ago, a clutch of New Zealand wine companies had a Eureka moment. Spearheaded by John Forrest of Forrest Wines, they made the-then pioneering decision to explore ways of reducing alcohol content in their wines. Eighteen firms* teamed up with the authorities in 2014 to pour a total 17 million NZD (10 million euros) over seven years into the NZ Lighter Wines programme, the largest research and development initiative ever undertaken by the country's wine industry. Its remit is to position New Zealand as the world's leading producer of wines containing less than 10% alcohol by volume, and what makes it unique is that the alcohol reduction is to be achieved naturally. Canopy management, suitable site selection and use of specific yeast strains are among the main focuses of the research currently, but the toolkit is extensive and experimentation still ongoing. New Zealand's image as a "green" purveyor of some of the world's finest Sauvignon blanc is at stake. The quality of the wines must be on a par with their conventional counterparts, and the distinctive typicity of Marlborough Sauvignon needs to be replicated if consumers are to be encouraged to make the transition from 12.5/13% ABV to 9.5 or even 9%.
Canopy management key
Medical researcher Dr John Forrest can be credited with getting the ball rolling. He began experimenting with and making lower alcohol Sauvignon when there was no marketing incentive to produce them. "Five years ago, we had the technology, but no customers", he admitted. But that didn't dampen his enthusiasm for a category he was convinced had a commercial future – even before climate change brought the issue of alcohol reduction across-the-board clearly into focus. His first attempts were not crowned with success: "The first two years were wasted and the wines lost flavour". Until, that is, he shifted emphasis to the vineyard. "The standard Marlborough canopy stands 15 leaves tall, one metre off the ground with four canes. It was not unreasonable to believe that the leaves may be different biochemically as illustrated by the different leaf colours on the canopy". He and his staff plucked the leaves to see how they affected the ripening parameters and quickly realised that the rate of sugar accumulation could be adjusted by removing leaves at selected times, whilst the flavour and phenolic ripeness were not too dissimilar – Marlborough Sauvignon's typicity, and fruit weight, were intact. In fact, the wines even showed a greater propensity for ageing than their full-strength counterparts!
7% of all Sauvignon sales in New Zealand
Further experimentation led John Forrest to move the canopy up to the top wire with three canes whilst also leaving more than half the fruit shaded to promote more delicate aromas. The hang-time for the fruit is the same – 60 days – and alternating warm days and cool nights are as essential here as they are with conventional wines. In good years, the changes to canopy management can help reduce sugar and alcohol by up to 40%, and such is the success of the project at Forrest Wines that its entire business model has been evolved to accommodate the 60% share of the wine range now lower in alcohol. "The growth in sales is coming from premium food outlets around the world where there is a gap for wellness products", he explains. Waitrose in the United Kingdom has proven to be one such outlet and it now stocks The Doctors' Sauvignon, to rave customer reviews and at prices comparable to their full-strength counterparts – a prerequisite for sustaining New Zealand's quality image. Although the UK is the largest export market for lower alcohol New Zealand wines, other countries, including New Zealand itself, have shown their willingness to adopt the category. The Liquor Control Board of Ontario, Systembolaget in Sweden, Woolworths in Australia and Booths in the UK, were all represented at a trade and media trip organised at the start of the year as a prelude to the 2019 Sauvignon Celebration in Marlborough.  "New Zealand has good brand equity with consumers", stressed Richard Lee, the project's head of marketing. This partly explains why international and domestic buyers are placing their trust in the now 50-strong range of wines available, twice the amount on the market three years ago. Of these, Pernod Ricard's Stoneleigh – which produces the largest selling Sauvignon blanc in New Zealand – has successfully secured a place for its lighter Sauvignon in the top 100 SKUs in the country, out of a total 5,000. "It is the biggest-selling lighter wine in New Zealand being marketed as "naturally lighter in alcohol", and performing well in open wine competitions", added Lee. Domestically, 7% of all Sauvignon blanc sales are now lower in alcohol.
Naturally lower in alcohol a crucial buying cue
The proof is also in the (blind) tasting and NZ Lighter Wines are deliberately entered into open classes in competitions to benchmark their quality against their conventional equivalents. In one competition, Stoneleigh won gold for its lighter wine and silver for its full strength counterpart. Research into merchandising techniques has also revealed that positioning next to full strength equivalents delivers the best sales results. "Most of the Lighter Wine offerings from New Zealand are range extensions of full strength wines and are therefore presented next to each other with subtle differentiations", explained Lee, who refuted the idea that consumers may be choosing lighter wines by mistake. "This is not borne out by the data on repeat purchases". The wording on the labelling, reflecting the techniques used, is also crucial to consumer, and buyer, acceptance. "In tests, "naturally lower in alcohol" was found to be the most appealing to consumers and "dealcoholized" the least", said Lee. Waitrose wine buyer Alexandra Mawson confirmed the findings: "As a buyer, I want reassurance about how the alcohol levels have been brought down. I'm not interested in artificial techniques", she said, adding that consumers also reject residual sugar. Some retailers, like the LCBO in Canada, originally chose not to flag up alcohol content in a bid to get consumers on board before marketing the wines as lower alcohol, which the monopoly does now. For John Forrest, who is now considering 0% alcohol, emphasis on lifestyle is key: "You need to brand yourself as more of a health and lifestyle choice", he commented.
Perfect timing
As the wellness, health and consequential moderation trend continues to sweep across the globe and a broadening range of lighter wines creates a virtuous circle of supply and demand, New Zealand's Lighter Wines programme looks set to gain even greater traction. "The leading operators in the project predict around 10% of their current range will be produced as lighter wines by the mid-2020s, mirroring their confidence in market potential", said the programme's manager and technical advisor Dr David Jordan. "45% of premium wine drinkers are likely to purchase lighter wines, provided they find comparable flavour to their normal wine of choice. Sauvignon blanc drinkers are more likely to do so than other drinkers", added Richard Lee. With senior beer executives predicting that by 2025, 20% of global beer sales will be lower in alcohol or alcohol-free, the timing is right for the wine industry to plug the gap.  "We feel that we are on the cusp of delivering a new part of wine's future", concluded Lee, and with the number of social and economic indicators at an all-time high, it isn't hard to agree.
* Accolade Wines, Allan Scott Wines, Constellation Brands, Forrest Wines, Giesen, Indevin, Kono, Lawson's Dry Hills, Marisco Vineyards, Mount Riley Wines, Mt Diffculty Wines, Pernod Ricard, Runner Duck Estate, Spy Valley Wines, Villa Maria, Whitehaven, Wither Hills and Yealands