Technologies improving white Sauvignon quality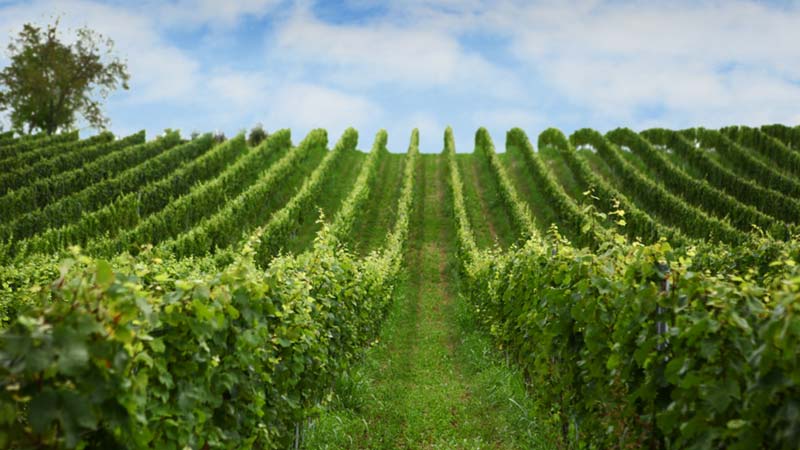 The significance of terroir and harvest dates
During ripening, these two aroma categories behave in opposite ways. Whereas the level of methoxypyrazines decreases during this phase, the proportion of thiol precursors increases. Hence, terroir and choice of harvest dates lead to very different types of balance between the two groups of aromas – an infinite range of wines can therefore be produced in terms of intensity and aromatic complexity. It is practically impossible to obtain a wine showing complex aromas from a single grape variety or by applying standardised technology. If, by chance, this result is achieved, it is impossible to reproduce it the following years.
Three technological strategies are therefore possible:
To aim for wines where the methoxypyrazine component is predominant by harvesting early whilst restricting presence of the thiol component through ad hoc winemaking techniques;
To emphasise the thiol component by allowing the grapes to ripen and by promoting production and retention of these easily oxidizable compounds using suitable winemaking techniques; there is a risk though of obtaining excessively perfumed and relatively unpalatable wines.
To increase the complexity of the wines by fermenting grapes with different characteristics separately and then blending them prior to bottling.
Blending wines with different characteristics
Sauvignon's ultimate organoleptic quality is obtained by applying the rules of winemaking ingredients in an extremely classic way, hence by producing wines with different organoleptic characteristics that are then blended before bottling to make wines that match the various marketing policies of each company.
As mentioned above, there is no doubt that a wine's quality is determined in the vineyard. Therefore, a certain number of vineyard management techniques need to be implemented to start with, in order to improve the quality of the wine.
Changing the ratio of leaf area to bunch weight
The golden rule, that has been applied particularly over the last few years to quality viticulture, is to ensure leaf area of one square metre for each kilo of grapes, equating to a 1:1 ratio. Experiments conducted in our area over the past few years have shown how important it is to aim for a ratio of 1:2 – i.e. two square metres of leaf area for each kilo of grapes – to improve the quality of Sauvignon. The leaf area must also be extremely dense, which is why nitrogen fertilisation must be considered as a quality input. Considering the chemical composition of thiols, a positive correlation has been established between sulphur fertilisation and the synthesis of thiol aroma precursors.
Choice of harvest dates
Methoxypyrazines are broken down by light whereas the synthesis of thiol precursors increases, which is why foliage density and period of spraying determine the ratio of methoxypyrazines to thiol precursors in the grapes.Studies conducted in our area over the past few years have shown that this ratio is linked to the colour of the grapes. Technical imagery analysis is therefore applied to determine the best time to harvest the fruit, depending on whether the aim is to produce wines with predominant herbal aromas (green berries), a balance between herbal and fruit aromas (pale yellow berries) or clear fruit aromas (intense yellow berries).
Once harvest dates have been set, the methoxypyrazine component is simply extracted from the grape during the winemaking phase whereas the thiol component is extracted at first, then modified using the appropriate technological interventions.
Intervention during winemaking
The thiol component is formed of two groups of nose aroma compounds that are active in concentrations usually found in wines: 4MMP (4-mercapto-4-methylpentan-2-one), characterised by scents of boxwood leaf and passion fruit; and the 3MH (3-mercaptohexanol) and 3 MHA (3-mercapto-hexyle) couple, exuding scents of passion fruit, grapefruit and guava.
Although each of these two groups of thiol precursors can be extracted from grapes and modified during winemaking, it has been proven that the concentration of the second group can be increased by intervening in winemaking procedures. If winemaking involves strictly excluding the presence of oxygen (reductive winemaking), then the thiols that develop during grape ripening will be preserved. If pre-fermentation procedures (harvesting, unloading, crushing, pressing and racking) occur in an environment where oxygen is present and no exogenous antioxidants are used (oxidative winemaking), this stimulates enzymatic production of hexanols which, as they react with the glutathion in the must, boost the amount of second-group thiols in the must.
Relatively high fermentation temperatures
During the fermentation phase, the thiol precursors must release the volatile thiols which will produce the wine's ultimate aromas. Selections of special yeasts for fermenting Sauvignon grapes have already been on the market for a few years. One can consider that they are in widespread use and it can therefore be said that all Sauvignons worldwide are produced through the fermentation of five yeast starter culture strains.
Not enough consideration is given to the fact that, unlike fermentation management of most white wines – where low fermentation temperatures yield the best organoleptic results – in the case of Sauvignon, it is best to choose fermentation temperatures closer to the upper recommended limit (20°C) than to the lower limit (15°C). Special attention must also be paid to management of nitrogen inputs because the production of malodorous volatile thiols – a sign of lack of nitrogen in the must – can only be corrected by compromising some of the variety's positive thiol component.
Used wooden containers conducive to wines for laying down
The issue of producing Sauvignon wines for cellaring has also been open to debate over the last few years. It is clear that the reactions involved in stabilising the phenol component in wine that is essential for longer storage are the antithesis of preserving easily oxidizable molecules such as thiols. It has nevertheless been demonstrated that the various thiol molecules react differently. Hence, if large wooden containers or small but used wooden casks are used, the phenol component in wine can be stabilised without significantly altering the nose characteristics.
Before and during bottling
Stabilising Sauvignon before bottling is another critical moment in the production process. The cultivar is particularly rich in unstable proteins which require systematic protein stabilisation treatments prior to bottling. If these treatments are too intensive, some of the organoleptic quality can be lost during this phase. To avoid this downside, intervention can target three factors: the must can be deproteinized by combining settling techniques (decanting, flotation, filtering) with bentonite fining treatment; the time the wine spends in contact with the yeast can be extended for as long as possible to promote the 'dissolution' of protective colloids, such as mannoproteins from the yeast, in the wine; and the wine can be clarified prior to bottling using excellent quality bentonite or tannins.
Particular care needs to be taken during bottling to avoid dissolving oxygen. Low permeability closures, which limit the amount of oxygen entering the bottle, are the preferred choice nowadays. Hence, the most widely-used closures are screwcaps (Stelvin) or technical cork closures with very low permeability (Diam).
To conclude, production of Sauvignon wines is not the result of a fortuitous combination of factors or use of standardised, consistent procedures, but rather the culmination of careful attention to detail, both in the vineyard and in the winery.
Professor Roberto Zironi is a lecturer at Udine University in Italy